« Back to Case Studies
Vitamin Shoppe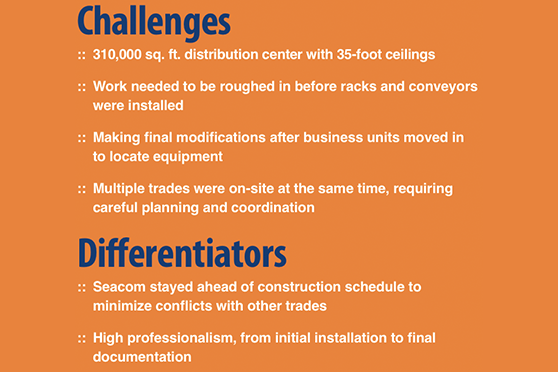 "Rarely have I worked with an organization so focused on doing everything properly."
- George Chernenko
Chief Technology Officer
GC Consulting Solutions LLC
The Vitamin Shoppe, Inc. is a retailer and direct marketer of nutritional products, with 550 locations in 42 states. The company turned to Seacom for its first purpose-built distribution center in Ashland, VA. The 310,000 sq. ft. facility was designed with state-of-the art bar-coding, scanning, automatic conveyors and the other systems needed to manage and move over 18,000 stock keeping units.
Much of the project was "lift" work under the 35-ft. high ceilings of the center, and had to be roughed in before other trades installed the conveyor systems. In addition, Seacom provided cabling for voice and data communications in two office areas, with fiber running from a data center to two wiring closets. There were nine wall-mounted cabinets serving as IDS in the distribution center for the company's equipment. Seacom also did all the A/V work in the building, with overhead projectors, flat-screen TVs, digital signage and TVs for displays.