« Back to Case Studies
Allianz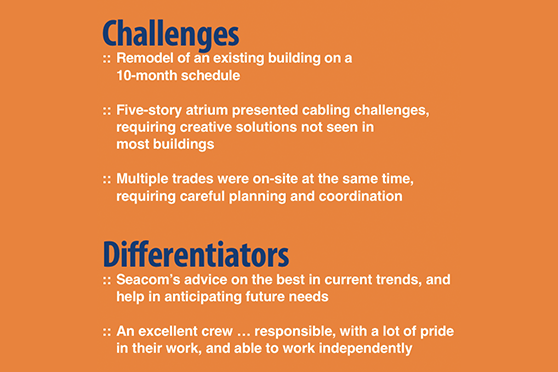 "I can count on Seacom for a job done quickly and with remarkable quality."
- Mark Ryder
Director of IT Operations
Allianz Assistance
Allianz Global Assistance, part of the worldwide financial services and insurance company, Allianz, turned to Seacom after acquiring an existing five-story building to house its new Richmond, VA headquarters. It was the first partnership between the two companies, but an important one, as Allianz Assistance consolidated all of its employees from three other buildings.
Complicating the project were a short timeframe for the work, plus the complexities of remodeling an existing building. Working around a five-story atrium, which made passing cables challenging, Seacom ran a backbone of 50-micron OM-3 fiber, and installed Category 6 cabling for 2400 workstations. The company also built out a 1200 sq. ft. data center with cabinets and ladder racking, and set up 10 wiring closets, built out with racks, ladder trays and overhead supports. They also installed A/V cabling for an extensive system installed by another contractor.