« Back to Case Studies
Collegiate School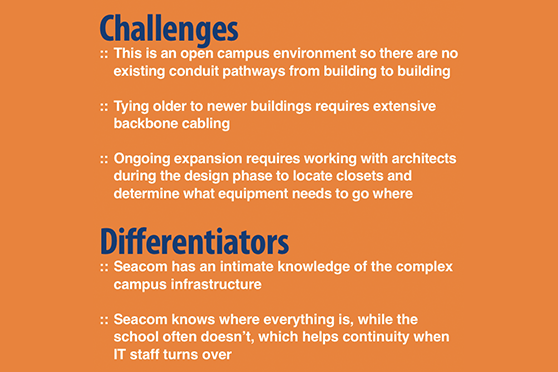 "We rely on Seacom for everything from planning to final testing."
- Patty Sinkler
Director of IT
Collegiate School
Seacom has worked with Collegiate School for over 18 years and played an integral part in their campus expansion and renovation. Currently Seacom is working on the school's new Academic Commons building, which is designed to facilitate new ways of teaching, learning, research, collaboration and creativity. It will be connected to an expansion to the Hershey Center fine arts building on the school's open campus.
Seacom will be installing a new air-blown fiber backbone to the two buildings from the main hub in the Reed Gumenick Library. This involves two 18-strand bundles from Gumenick to the Academic Commons and one point to the Hershey Center. In addition, Category 5e cables will be installed throughout for wireless access and voice and data drops, along with IP speakers inside and outside the Commons and Hershey Center. Projects as extensive as this require year-around collaboration between the school and Seacom's staff.